Our girl Bonesy passed her first Senior Hunt Test leg at the Trinity Valley Weimaraner Club's hunt test on 3/14/2011.
Bonesy did an amazing job and put everything together this weekend. She ran her heart out and got a qualifying score to earn her first leg toward her Senior Hunt title. We have trained with Bonesy on birds and hunting for her entire life, but early on we decided we would not pursue her Senior Hunt title. But after many years we have decided to enter her and let her do what she loves which is hunt and find birds. The hunt test 'season' is pretty much over here in the Texas area of the country (it is getting way too hot and dry) so we will continue doing our bird work and hit the hunt test circuit hard this fall. We are so proud of our Bonesy, she did an amazing job! She has always been a really, really good hunting dog and it is fun to see her perform in front of the judges and for her to get recognition.
---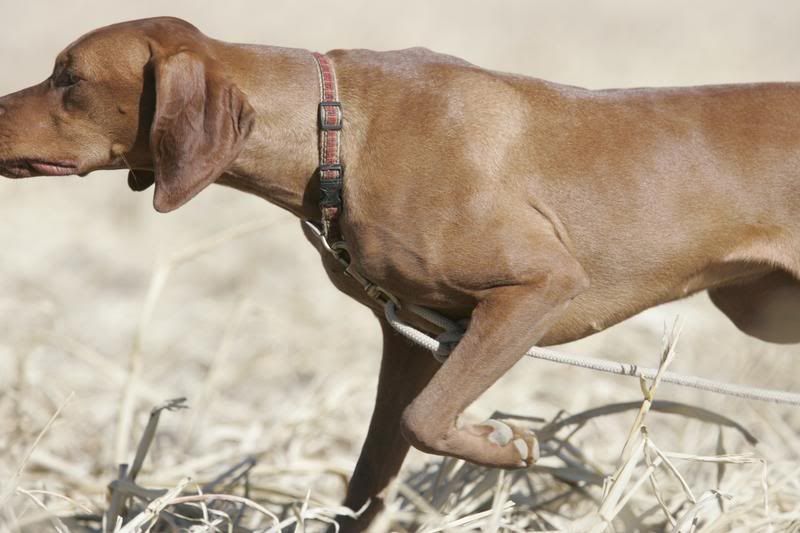 Photo by Marc Piscotty
Birds, Birds, Birds
Story of a hunt test (portions true, although we might not admit to which parts)
There is nothing in the world quite like watching a dog work a field. They glide from spot to spot, effortlessly checking tufts of grass, bushes, and any other small hidden places where their allusive quarry may be tucked away. You see them focused and determined, leaving no stone unturned, knowing the prize and reward they seek is there…waiting to be discovered.
And then, your dog goes on point! It's beautiful — picture perfect. But your dog creeps and all of the sudden, you realize that the bird is on the run and it flushes before you can get there. Your dog and the bird are quickly moving toward the next county. You're hopelessly trying to call your dog back in and the judge at the hunt test nicely, and somewhat sympathetically while hiding his laugh, asks you to pick up your dog. No kidding…pick up your dog. You think at this point you might need to borrow his horse so you catch up with your dog. Your dog comes back in…. eventually….after a nice game of chase, happy as a clam, and so proud! Found the bird…just missed some of those other finer points.
____________________________________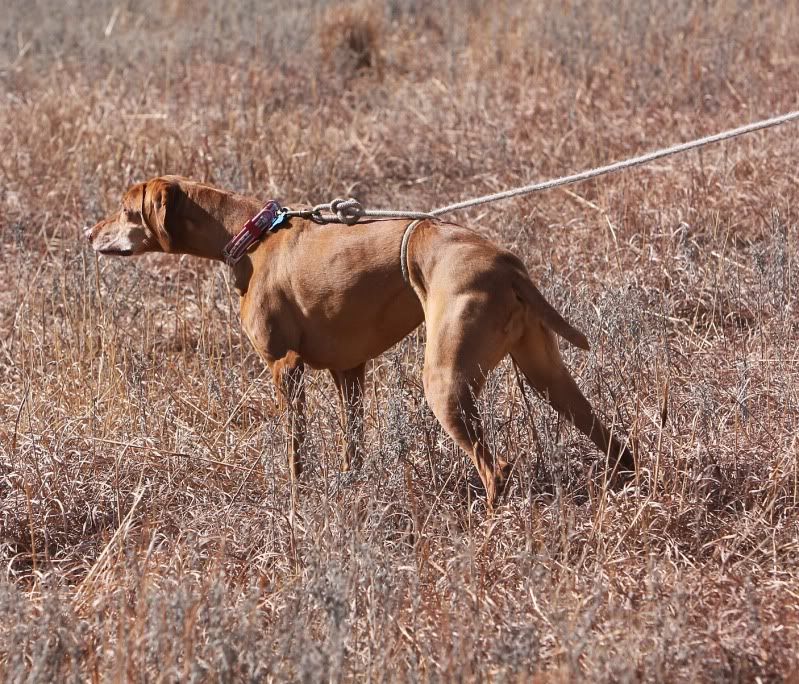 Photo by Marc Piscotty
Patience, patience, patience is the name of the game. Hunting with your vizsla is a pure joy but it, like so many other aspects of life with a vizsla, requires patience and time in large quantities, but it's not all bad because half the fun is the getting there. Each time my dogs run a field I get excited. There is something about the energy, the beauty, and connection that is made with the dog and the hunt that raises my heart rate and gets me… just pumped. Too, when your dog overcomes a hurdle, performs like he/she is supposed to and the "light bulb goes off," it's as exciting for you as it is for your dog. Even though there are times where my dogs don't quite look like they should be on the cover of Gun Dog Magazine, it's some of the best times we have with our girls and our family.
Bird hunting is more than just harvesting birds for us. Of course finding birds and getting a few in your bag is the goal, however, for us, seeing our dogs work a field and suddenly slam on point, alerting us to a bird that would have otherwise gone completely undetected, is truly the prize, regardless if we bag the bird or not.
We train and hunt our dogs every opportunity we can. It is often a family event for us. We teach our children everything we can, from field and equipment safety, down to appropriate attitude and behavior around our dogs, and especially around other people's dogs. It is important to us that our children share in all the experiences and memories we make.
photo by Rene Blakemore
We've collected a number of photographs and videos from various training days, hunt test events, and hunting trips. A lot of training and time goes into getting a dog prepared for hunt tests and hunting. I would call it work however we don't really see it as that, in fact it is often a sanctuary away from our jobs and other stresses…so it wouldn't be fair to call it work now would it.
Below are a collection of links, articles, pictures, videos, and musings. Please feel free to browse them. Some are meant to be informative and/or even possibly helpful, others are simply meant to share a wonder memory.